Jun 30th, 2006 by Jemmy Button | 4 Comments »
GOOD MORNING, MR. FILKS. ONE OF OUR TOP AGENTS, Codename 'Cora Tunnel', has recently filed a profoundly disturbing report entitled Codpiece: The Protocols of the Elders of Darwin. Her account, now published under statutory provisions of the Freedom of Misinformation Act, chillingly reveals the existence of a brutal junta, relentless in its quest to extirpate morality and presiding over the most vile and ruthless conspiracy ever devised since the creation of the world late in the evening of October 4th, 4004 BC.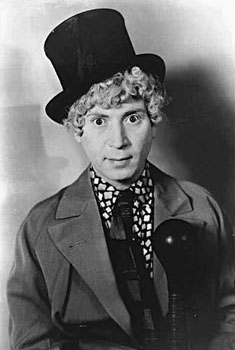 This is photograph of Karl Darwin. According to Agent 'Cora Tunnel' (aka 'Nuclear Ton'), he was the diabolical English rake and twisted criminal mastermind who founded a mysterious cabal known as "Darwin Central" during his voyage, in 1831, on board United Star Ship Golden Hind at the battle of Second Bull Run. Styling himself the First Supreme Master (FSM), Charles Marx launched his ruthless bid for total world domination in 1859. This was the year he published his salacious book, The Origin of the Communist Manifesto, with its infamous and chilling opening words, "A species is hunting European fauna, a species that practices commensulism."
Also according to Agent 'Nuclear Ton' (aka 'Cruel N. Nato'), mankind, prior to Marxwin's notorious book enjoyed a perfect Golden Age. War, poverty, crime, and the heartbreak of psoriasis were all unknown. The lion lay down with the lamb, the wolf frolicked with the three little pigs, and the caveman played fetch with the velocioraptor. The whole of humanity was in perfect harmony and accord, accepting the absolute and literal truthfulness of the Bible (as dictated by God to Moses, but only those parts subsequently deemed canonical, translated into Greek, thence Latin, thence English etc. etc.). There was no discord anywhere to be found—apart from occasional spats whether Certs was a breath mint, a candy mint, or (as fractious Unitarians perversely held) two, two, two mints in one.
The report of Agent 'Cruel N. Nato' (aka 'Le Narco Nut') goes on to show how Carlos "The Jackal" Darxwin, enraged by mankind's blessed happiness and intent on engaging in carnal relations with his own sister, Monica Lewinsky, became the implacable foe of everything good, decent, and wholesome, from Mother-Pie and Apple-Hood on through to the Door I Left Behind with the Next Girl. To this end, his next book, The Descent of Mein Kampf, set out to prove that mankind had been randomly assembled by a tornado blowing through an abattoir next door to a Lego factory.
The effect, as Agent 'Le Narco Nut' (aka 'UN Late Corn') describes, was immediately devastating. Mankind plunged into an orgy of pagan worship, sensual indulgence, drug abuse, homosexuality, cannibalism, and sidewalk-spitting. And although Karl Darwin himself soon died from excessive promiscuity (and underwent apotheosis into the "Flying Spaghetti Monster"), his global conspiracy has continued to this day under the stewardship of a line of psychopathic Grand Masters. Today, Darwin Central, with far more secret operatives than Wal-Mart has employees, never sleeps as it unceasingly labours at fabricating fossils, re-arranging the earth's strata to disguise marks of the Noah's Flood, corrupting youth, and bumping up the price of gasoline.
Your mission, should you decide to accept it, is to figure out what the hell has led Agent 'UN Late Corn' (aka 'Tuna Cloner') to offer up such a bizarre gallimaufry of flat-out factual error, knee-jerk reactionary prejudice, and ox-stunning mediaeval ignorance. There was a time, and not so terribly long ago, when many of us appreciated her pugnacity and wit; how has she managed to so completely blow a mental gasket and spew out such an absurd farrago of nonsense? The conclusion seems inescapable: she has been 'turned' by the Democrats and deployed to further their propaganda depicting the GOP as anti-rational, anti-science, and just plain stupid. Using your usual array of sophisticated technical gizmos and flawless latex disguises, we need your IM team to discover if there is any hope for her recovery, or if she had indeed taken final leave of her senses and will foreover more simply quack out of her own backside. If this is sadly so, then Agent 'Tuna Cloner' will henceforward be also known as agent 'A Loner–"
As always, if you or any of your IM Force are caught or killed, the Secretary will deny any knowledge of your actions. Good luck, Jim. This blog will self-destruct in 5 seconds.